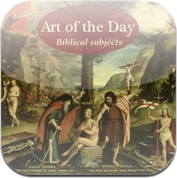 View a fresh work of art every day. Includes brief descriptions. With hi-res images on iPhone 4.
The art, with biblical subjects, was made by well-known masters such as Rembrandt, Caravaggio and Michelangelo.
A helpful reminder notifies you of the daily update.
Toolbar buttons give quick access to the web page with the large image and full description and enable sharing via Twitter and email.
The app is bilingual: English and Dutch. Internet connection required.
Download This free app was made for iPhone / iPod Touch / iPad with iOS 4.0 or higher.
Related app: ArtBible.
Screenshot on iPhone / iPod Touch:
Swipe or use the buttons to browse back and forth.